Articles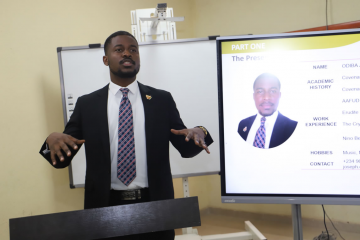 Sales Expert Encourages Students to Explore Sales Career
Mr Odiba, Guest Speaker at the Town and Gown Seminar of the Department of Biochemistry, Covenant University, made the above assertion while presenting a lecture titled "The Biochemistry Graduate in the Sales Career".
He defined sales as a transaction between two or more parties in which the buyer receives tangible or intangible goods, services, or assets in exchange for money.
According to him, there were sales misconceptions such as 'sales managers are same with marketers', 'salespeople are shady', 'it's all about the numbers, and a sales manager must have all the answers. He described a sales manager as a business, people and customer manager responsible for growing and hitting sales targets by successfully managing the sales team.
The Guest Speaker, a graduate of Biochemistry from Covenant University, said the functions of a salesman were to map potential customers and generate leads, promote the brand, motivated team members, deliver desired results, strategize, and lead by example. A salesman engaged in customer relationship and database management, he added.
Mr Odiba, currently a sales manager at AAFUD Industry (Nigeria) Company Limited, said a salesperson must be patient, diligent, committed, people-oriented, and a good communicator, aggressive and resilient. He told the students that salesman must also be imbued with the values of education, skill development, social capital (network), good work ethic, positive image, creativity, and emotional intelligence.
While speaking on the benefits of the sales career, the Guest Speaker said it improved negotiation skills, taught persistence, helped drive sales in entrepreneurship, taught self-disciple, exposed gaps in industries, and was one of the quickest jobs to get. However, things he learned on the job were getting irregular income, having an unpredicted schedule and constant pressure, and always going.
He said that, on the job, he has been able to discover that business was a living multicellular organization and sales played multiple vital roles in driving organizational growth. "The growth of the organization is directly proportional to the growth of the individuals, leadership and mentoring ensure ease of personal growth, know the following: yourself, your customer, your organization and the market trends, major sales breakthroughs come from strangers and least expected sources, and your pipeline is your lifeline," Mr Odiba admonished the students.